NovaSparks advances FPGA Trading Technologies
NovaSparks is the leader in FPGA-based high performance and ultra-low latency trading solutions for financial markets.
NovaTick™, its flagship Ticker Plant product, supports 70 feeds across the major Equities, Futures and Options trading venues in North America, Europe and Asia and is packaged in scalable easy-to-deploy appliances or in tightly coupled PCIe cards.
NovaSparks FPGA approach delivers normalized market data, including book building and consolidation in less than one micro-second, even during market peaks period.
This level of performance is extended to the whole trading cycle with the NovaSparks pure FPGA Tick-to-Trade solutions or can be leveraged for custom projects through the NovaSparks open FPGA trading development platform.
NovaSparks is headquartered in Paris (France) and has offices in Nantes (France) and New York City (USA).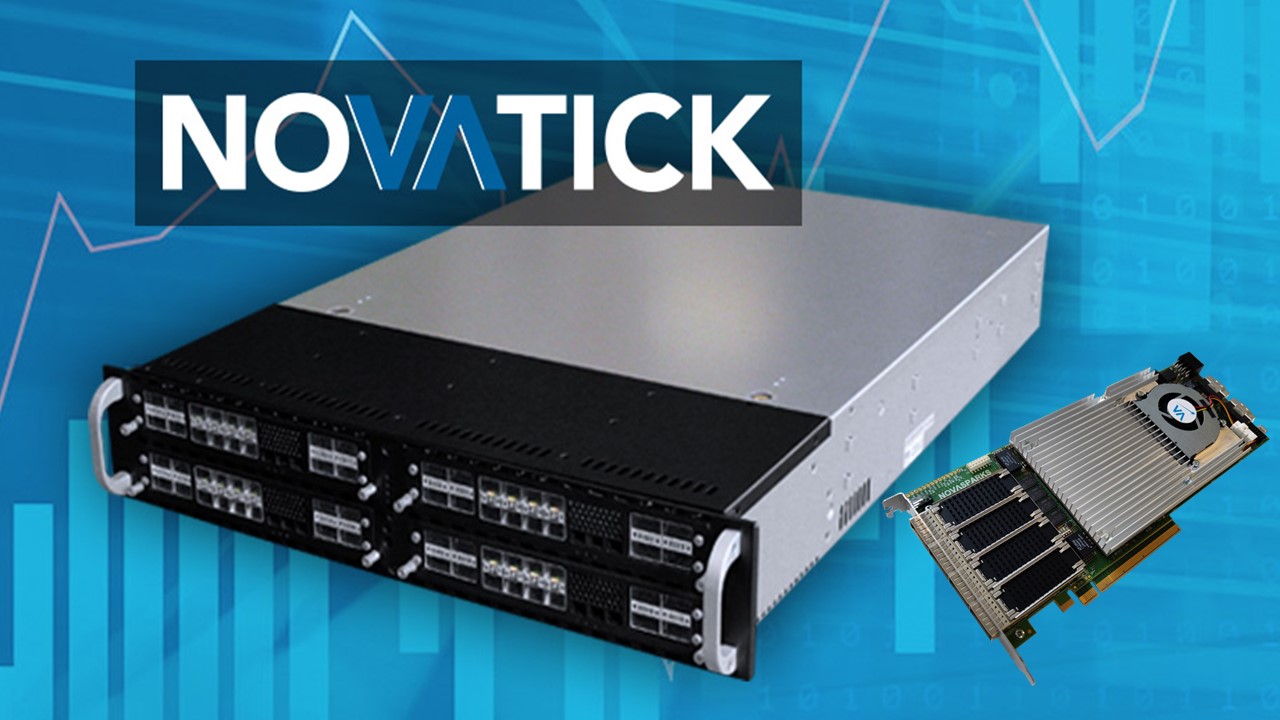 NovaTick 4th Generation Platform
In comparison with the previous (3rd) generation, this hardware platform reduces ticker plant latency by 25%, multiplies instrument density by 10, unleashes new consumption and integration models and offers two form factors: Appliance and PCIe Card.
Learn more
Could the NovaSparks FPGA platform give you a trading edge? If your trading strategy relies on ultra-fast, deterministic and reliable access to the market data, there is no alternative.
Software Ticker Plants solutions rely exclusively on CPUs to handle market data and are not are not able to offer the lowest latency, especially during market spikes. Memory bottlenecks, operating system overheads, poor parallelism, compiler limitations and slow networking stacks are among the many factors constraining performance and causing long tails in the processing latency distribution.
Learn more
The FPGA-Based Market Data Consolidator Builds Composite Order Books Across Multiple Venues in Under 500ns NEW YORK, PARIS – July 20, 2021 – NovaSparks™ today announced a major enhancement to NovaTick™, its innovative FPGA-based ticker plant, consisting of an entirely FPGA-based order book consolidator that sets a new benchmark for…
Vendors who want to provide consolidated market data under the SEC's new system can't make plans until they know how they are going to be charged for market data. But the fee schedules are mired in legal action and confusion.
NovaTick™, the flagship platform of the FPGA market data company, was voted the Best Software-Based High Performance Data Feed Handler. NEW YORK, PARIS – APRIL 20th, 2021 – NovaSparks, the leading field programmable gate array (FPGA) trading solution company, today announced that the European readership of TradingTech Insight selected NovaTick…