NovaTick™, the flagship platform of the FPGA market data company, was voted the Best Software-Based High Performance Data Feed Handler.
NEW YORK, PARIS – APRIL 20th, 2021 – NovaSparks, the leading field programmable gate array (FPGA) trading solution company, today announced that the European readership of TradingTech Insight selected NovaTick as the best software-based high-performance data feed handler solution at its 2021 Trading Tech Insight Awards Europe.
"We are honored to be the recipients of such a prominent award," said Luc Burgun, NovaSparks CEO. "This award acknowledges the endeavor of NovaSparks to enhance the capabilities of NovaTick, our premier FPGA-based market data feed handler, to expand its functionalities to match the offerings typically found in traditional software-based solutions."
Over the past couple of years, NovaSparks' high-performance feed handlers have been increasingly deployed in the most demanding trading infrastructures in the U.S. and in Europe. NovaTick provides sub-microsecond processing time and ultra-low latency for major equity and futures feeds around the world, confirming that NovaTick can comfortably compete with traditional software solutions while providing exceptional speed, determinism and a rich set of features.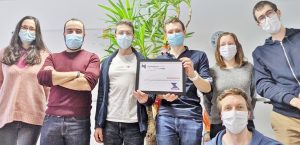 Part of the NovaSparks Team, Paris, France
NovaTick is built on an FPGA-centric architecture, augmented with tightly integrated multi-core Intel processors that execute non-latency sensitive tasks such as exchange recovery functions or monitoring. It also provides an Application Programming interface (API) to allow banks and trading firms to integrate additional feed-handlers, quickly and effortlessly.
NovaTick incorporates all the capabilities of a true ticker plant, as shown in the table below.
Input

A/B arbitration
Wireless/Fiber Arbitration
Retransmission and Recovery
PTP time stamping

Data Processing

Decoding and parsing
Order book building
Multi-feed consolidation/aggregation (BBO or order book depth)
Shaping/conflation for wireless infrastructures
Advanced filtering and distribution

Output

Normalized, fast and easy to parse message format or SW API and HW Interfaces (for FPGAs)
L1 (Top of Book), L2 (Top N of Book) or L3 (Full Depth) data and full lot BBO publication
Snapshot for late joiners
Multicast Ethernet, PCIe or NovaLink (for FPGAs) output distribution options
About NovaSparks
NovaSparks is the leader in FPGA-based high performance and ultra-low latency trading solutions for financial markets. NovaTick™, its flagship Ticker Plant product, supports 70 feeds across the major Equities, Futures and Options trading venues in North America, Europe and Asia and is packaged in scalable easy-to-deploy appliances or in tightly coupled PCIe cards. NovaSparks FPGA approach delivers normalized market data, including book building and consolidation in less than one micro-second, even during market peaks period. This level of performance is extended to the whole trading cycle with the NovaSparks pure FPGA Tick-to-Trade solutions or can be leveraged for custom projects through the NovaSparks open FPGA trading development platform. NovaSparks is headquartered in Paris (France) and has offices in Nantes (France) and New York City (USA).
For more information, please contact Barbara Rizzatti at 971-998-9404 or marketing@novasparks.com.
Follow us on Twitter: @NovaSparksFPGA.